Concord & Chichester New Hampshire's Fireworks Store With The Best Prices!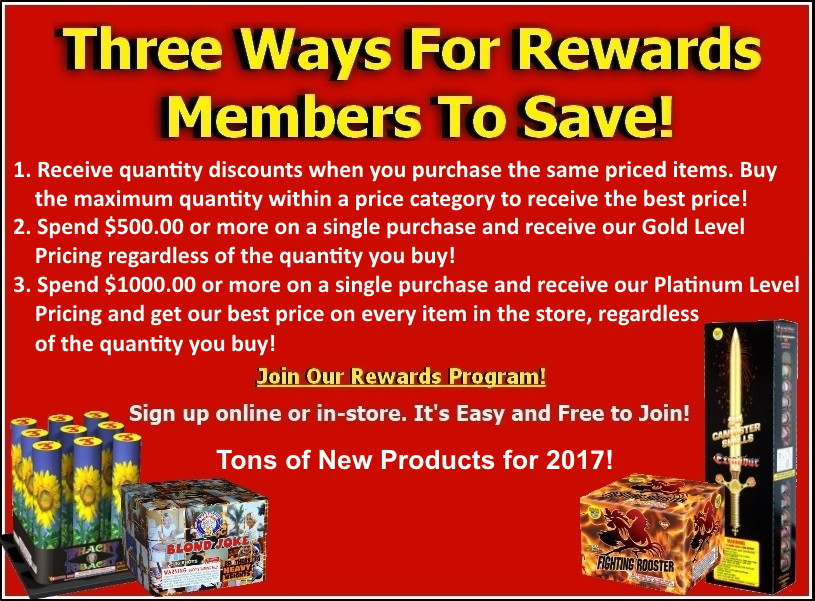 See Each Page For All Discounts on Fireworks!
No sales tax in New Hampshire!
Sparks Fly Fireworks is located in Chichester, New Hampshire. We have the best selection and best prices on fireworks in New Hampshire. We are easy to get to from Concord, Hooksett, Belmont, Manchester, and the Lake Winnipesaukee region. Our central NH location and best prices on fireworks in NH make Sparks Fly Fireworks your #1 source for fireworks!
As a relative novice in the fireworks category (I recently took over the 4th of July family celebration), I have been researching fireworks consistently lately, so I can put on a decent display for my friends and family.. A Google search this year brought me to Sparks Fly. It was about the 6th or 7th store listed. I clicked on the page and saw some of the greatest deals you can find and even better deals if you become a rewards member. Since I have a relatively limited budget (I wanted to spend 400-500 bucks) I took the ride up to Chichester to check it out. I got there just after opening and was greeted immediately by a couple of fellows behind the counter. Although the store was a little on the smaller side, they were still well stocked with more than enough for my need. Everything that was on the webpage was in the store and easy to find, and there were enough sale signs around to make you want to buy more. Everything in store was B1G1 and they had a great deal on 500gram repeaters as well. And since I was a rewards member, I qualified for more free fireworks (which the owner quickly recommended a favorite.) I won't get into the actual dollars here, but I did the math and what I paid was around 60% off the retail value. One of the guys helped me bring everything out to my car and, needless to say, I filled my trunk and the front seat (I should have brought my truck, but I took my wife's car....poor planning on my part) and I could barely close the trunk. Overall, I give Sparks Fly an A grade.
Come in to Sparks Fly Fireworks in Chichester NH to view our showroom with the best fireworks assortment in New Hampshire and the best prices on fireworks in New Hampshire!